We researched the real leather company website and spent some time getting their reviews. Keep reading my article to know about them. They claim that they provide the highest quality leather items. Their products are durable, stylish, and strong. They also claim that their products are constructed by experts. Their products provide comfort and add charm to someone's personality. People mostly love their bags and leave lovely comments. That's why I don't think they have more cons than their pros.
Customer satisfaction
Many customers are glad and like their new bags. They provide their products' images from various angles, which help a customer a lot to make a perfect decision.
What about their shipping process?
They ship to Canada, the US, and the UK.
Their shipping is free on all US orders and most Canadian and UK orders.
Shipping arrival time
Mostly, delivery time for the US, UK, and Canada is 2–7 business days.
⦁ They also deliver orders in bulk. You can contact them for further information.
What is their refund policy?
They offer a 30-day money-back guarantee that starts the day you place your order. This means they will refund your money when you return your product for any solid reason.
The drawback of TheRealLeatherCompany.com
The drawback is that some of their products are very costly, and middle and low-class people can't afford them. if you can get quality items at a low price, then you should save your money instead of buying an expensive item.
Their main products are in brownish and blackish shades mostly.
Most of their products are made for men.
What about their products?
They have a great variety of bags, wallets, briefcases, checkbooks, buffalo Dopp kits, waist bags, toiletry bags, and many more.

So let's briefly discuss some products.

The daily.

Everyone needs a durable, decent, and well charming bag. Here we search for a bag for your daily use. Made of real leather that gives you the smell of true leather. Super-professional and stylish bag leather bag that makes your personality charming.
Features
⦁ A zipper pocket on the rear.
⦁ Top-grain cowhide leather.
⦁ Buckle latch closers
⦁ Shoulder straps are adjustable.
⦁ The front zipper can be used for tablets.
⦁ Durable and loveable.
Cons.
⦁ Available in less variety of colors.
⦁ Its design is not unique.
Alternative product on Amazon: Professional leather bad from Kenneth Cole Reaction.
The man bag

The man bag will be great for you. You may love it, you can transfer all stuff from your old bag into it. It has 5 pockets that make it easy to assemble your things.
Features
⦁ All of its pockets are secure and of good quality.
⦁ Made of top-grain cowhide leather.
⦁ Shoulder straps are fully adjustable that can be shortened and lengthened.
⦁ You can arrange your things in it according to the size of the item and zipper.
⦁ The main compartment can be used for a book or tablet.
⦁ The bag is so secure due to having long-lasting zippers.
Cons
⦁ Before buying this bag, read the details about its size otherwise may you think this one is smaller than your requirement. So maybe a size issue will occur.

The Purse

This purse is a sling bag for carrying different things, you can easily carry your journal, book, tablet, phone, and wallet in this. A great option for men to assemble their things by making their personality marvelous. Fits different things nicely that you will love. The leather seems well and is a long-lasting bag.
Features
⦁ Made of premium top grain cowhide Leather.
⦁ Shoulder straps can be lengthened and shortened.
⦁ Rear pocket for easy access to products.
⦁ Made of durable material.
⦁ Its dimensions are 10.6" H x 9.7" L x 2.8" W.
⦁ Its weight is 1.75lbs.
Cons
⦁ It is not appropriate for large-size items.
Alternative product on Amazon: Kenneth Cole Reaction Laptop Business Travel Backpack

The rucksack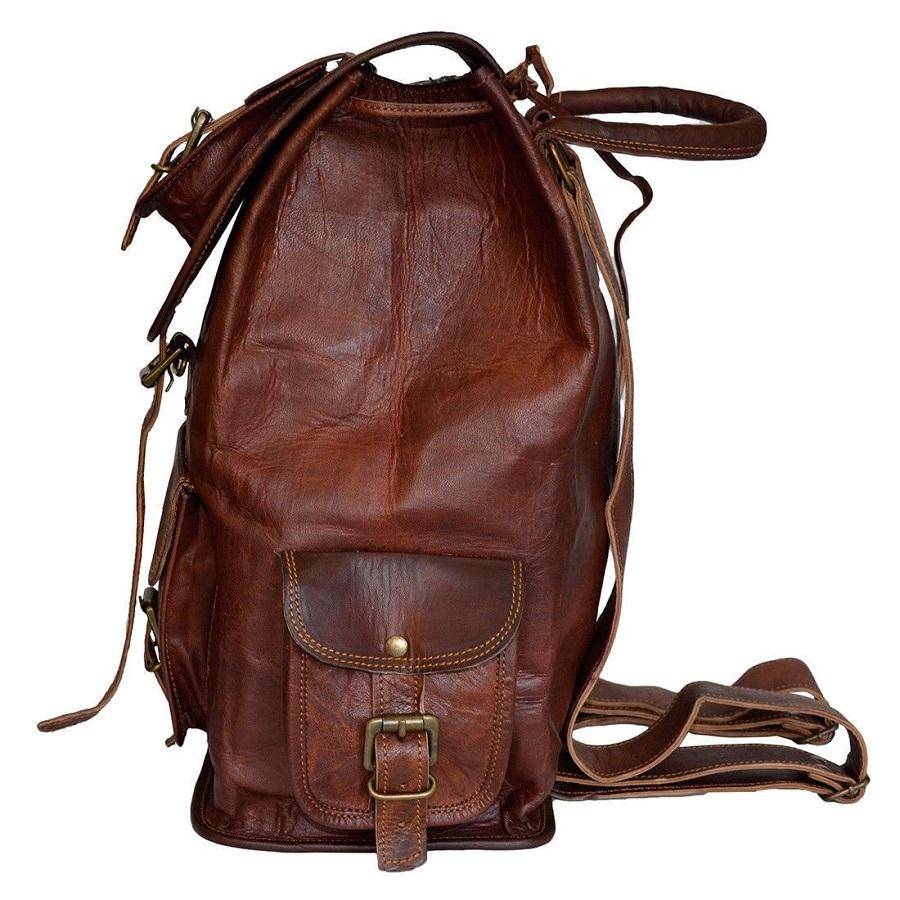 You will be pleased with the quality and style of this bag, its size is big and ideal to assemble an extra-large backpack. A good option to go on tour with the rucksack. It is suitable for your clothes, also for headphones, and books. Their exterior pockets can be used to keep your passport, wallet, phone, keys, etc.
Features
⦁ The leather type of this bag is full-grain leather.
⦁ The quality of the buckle is great.
⦁ The padded shoulder can adjust according to need.
⦁ The style of this bag is just amazing.
⦁ The dark color of this bag will not show dust and dirt soon.
Cons
⦁ Not ideal for daily use for someone who doesn't need a tall bag.
Alternative product on Amazon: HuaChen Waxed Canvas Shoulder Rucksack.